System solution to the electricity network-independant logging and online data transmission via GSM/GPRS as well as visualisation in the internet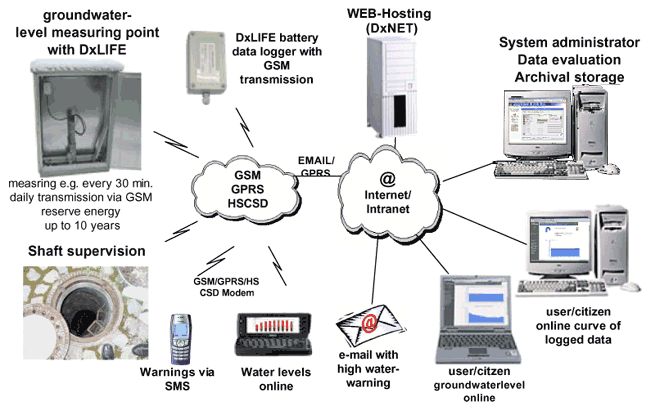 Warning systems for high water, floodings with online visualisation
Characteristics
Battery operated datalogger with durability of up to 10 years
Small overall size (l*w*h: 30*80*50 mm3), IP68 (water proof)
Logging and storing of analogue and digital measured values
Grenzwertüberwachung mit automatischer Datenübertragung
Supervision of critical objects
Cyclic online transmission of the data via GSM, GPRS or HSCSD
Transmission via SMS, e-mail and visualisation in the internet
Web hosting and data logging as a service
Generation of custom web pages with the logged data
Integration in customer owned internet presence
Complete solution with hard-, software and service from one source
back to top
Description
The battery-driven data-logger of DxLIFE transfers logged information in freely selectable time-screens via GSM or GPRS at a central computer (server).
Different data-logging devices are available so that we can offer the right solution for each application.
Stands them a multiplicity as data-suppliers from sensors by the disposal, level-sensors, temperature-sensors, pressure-sensors, etc. By default integrated is already the measurement of the field-strength, the measurement of the battery-tension and a temperature-measurement.
The data-transfer can immediately be operated with the current values or can be transferred in certain intervals (for example daily/weekly). With the interval-transfer, a supervision on limits, with whose overstepping an immediate alarm is caused, can be planned in the intervals. The data-logging devices are virtually maintenance-free. With weekly transfer and hourly measurement, the battery-lifespan amounts to up to 10 years.
The data of DxLIFE are sent via SMS or data-connection to a computer, that is connected to the internet (DxNET, www.dxgo.net).

On this computer, the data are received, evaluated, logged and prepared visually for internet users. The transfer takes place over GSM/GPRS cost-efficient.
Individual custom-designed web pages can be generated, deposited and included into the own web page. So, the representation of the measured values is in overview-cards for example or as station-specific evaluation possible.
These data are accessible for each user connected at the network. With important events, a spontaneous notification of the users can take place via SMS or e-mail for example.



Applications
Highwater warning systems, online groundwaterlevel measurings with citizen information, shaft supervision, supervision of penstocks, etc.



back to top
Examples